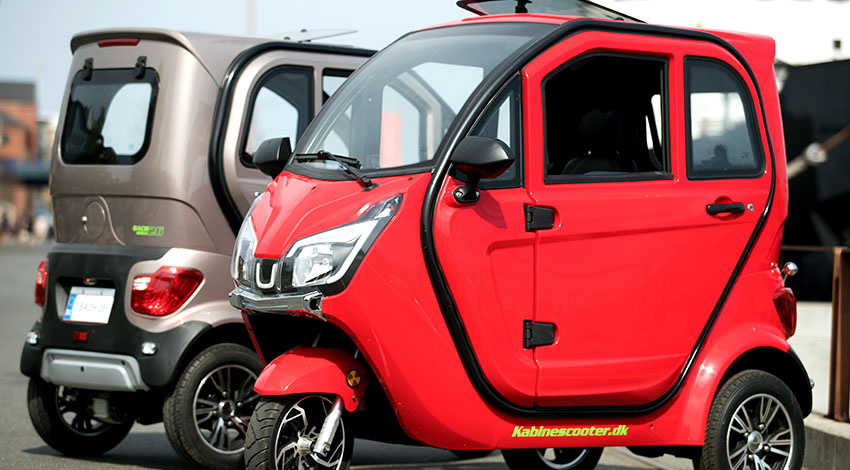 Bevægelsesfrihed året rundt
Bach Kabinescooter gør hverdagen let for alle. Der er ingen begrænsninger for, hvornår du kan køre i supermarkedet eller besøge familie og venner. Trods det skiftende danske vejr, sidder du både godt og tørt i en lille elbil. Den er i øvrigt 100% elektrisk! Læs mere
Gør din hverdag nemmere med en kabinescooter!
Mange af vores kunder har behov for to transportmuligheder, med travle hverdage, børn som skal til fritidsaktiviteter og mødes med venner. Hos Kabinescooter.dk, har vi et godt alternativ til den gængse minibil. Vi har vores Bach Delux 26, som med sit super smarte design og udstyr kan erstatte familiens minibil og kan gøre hverdagen lettere for den enkelte familie. 
Generelt info omkring en kabinescooter
Bach Delux 26 er en eldreven kabinescooter, som er typegodkendt hos trafikstyrelsen. Kabinescooteren må køre 30 km/t og må benyttes uden kørekort. En Bach Delux 26 fra Kabinescooter.dk koster kun ca. 900 kr i forsikring, samtidig er det billigt at lade den op, ca 2-3 kr. Kabinescooteren er god at have i større byer, hvor den nemt kan komme rundt og altid er plads til parkering. Herudover forurener kabinescooteren ikke og larmer ikke når den køre. Modellen kan leveres med batterier så den kan køre op til 210 kilometer på en enkelt opladning. 
Kabinescootere er derfor meget miljøvenlig og vedligeholdesfri, hvilket gør den meget attraktiv forbrugeren. Modellen er en af de bedste modeller i verdenen, når man måler på; køreegenskaber, sikkerhed og funktionalitet. Bach Delux er bygget specielt til det danske marked og er typegodkendt af den danske trafik styrelse. Da sikkerheden i vores produkt er i højsædet, er der 2 uafhængige hydrauliske skivebremser systemer, som garantere en sikker nedbremsning. 
Udstyr 
Kabinescooteren er udstyret med et bakkamera som automatisk tændes når der sættes i bak, centrallås, musikafspiller med USB, kabinelys, justerbart sæde, elektriske sideruderne, automatgear, brugervenligt styr, opbevaring og elektrisk varmesystem. 
Tilkøb af ekstra udstyr
Du kan tilkøbe dig vores DK komfort udstyrspakke, som indebærer: Oliefyr, lyd isolering, solskærm, bakspejl, blaupunkt DAB+ RADIO, undervognsbehandling og kofangere.  Herudover kan der laves specialindretning af udstyr så kabinescooteren tilser dine specifikke behov, blandt andet med et drejesæde og fod gaspedal.  
Kabinescooteren Bach Delux 26 er en model med unikt design og høj sikkerhed. Samtidig gives brugeren stor mobilitet og frihed året rundt, kabinescooteren sørger for at du kan komme ud og besøge venner, familie eller tage ud og handle uden at blive begrænset af vejret. Vi står altid klar med en prøvetur, enten hos dig eller i vores showroom i Hobro
Bach Kabinescooter er et super økonomisk køretøj, som kun koster få kroner at lade op. Den forurener ikke, og der er ingen støj for omgivelserne. Motoren er vedligeholdelsesfri og yder helt op til 1.500W ved spidsbelastning, og giver derfor en overlegen styrke i langt de fleste køresituationer.
Så ønsker du en økonomisk bil, der tillige er bæredygtig for miljøet og let at vedligeholde, så er Bach Delux 26 med sit stilrene design og store fleksibilitet det helt rigtige valg for dig.
+ Sikkerhed
Den solide stålprofilramme rundt om kabinen og dørene gør Bach Kabinescooter ligeså robust som en rallybil. De hydrauliske skivebremser sikrer god og jævn nedbremsning. Du har frit udsyn fra vinduerne hele vejen rundt i kabinen, og sidespejlene giver god orientering bagtil. Læs mere om sikkerhed her.
+ Komfort
Kabinen er yderst rummelig: Der er plads til 2 personer og indkøb. Kabinescooteren er indrettet med et justerbart førersæde, så du kan køre sædet frem og tilbage som i en bil. I modsætning til en almindelig el scooter, giver kabinescooteren dig mulighed for at sidde varmt og tørt. Læs også 5 gode grunde til at udskifte bilen med en kabinescooter.
+ Tilgængelighed
De store døre, som kan åbnes i begge sider, gør ind- og udstigning nem for alle, også hvis benene er lidt stive, eller du har problemer med dårlig ryg, bruger kørestol eller ligende. Bach Kabinescootere kan indrettes efter personlige behov. Læs mere her eller kontakt os, hvis du ønsker at vide mere om mulighederne.
+ Ekstraudstyr
Gør din kabinescooter ekstra lækker, eller helt unik. Gå på opdagelse i vores store sortiment af ekstraudstyr, og skræddersy din kabinescooter så den passer til dig og dine behov.